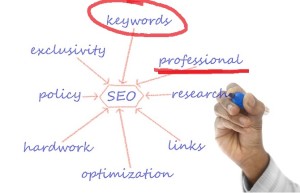 The critical piece of a successful SEO solution is choosing and using keywords effectively. These are the phrases people choose when looking for items to buy online or searching for service providers. An English teacher would shake her head at all the bad spelling and incomplete sentences, but grammar doesn't matter with SEO – or the people searching for what they want. What we work on with you is to figure out what your customers are thinking or what they want – to get "into their minds" and working on learning to think they way they think. You are most likely to ask us, "what are my best keywords" and "where do I put them?" This is where we, at the Delaware SEO Squad can help you.
What are the Keywords?
Think of how you, yourself search for things online. Well, your customers use the same words to search for stuff as long as they are effective — a host of possibilities which play around with a single theme. Sure, core words are adjusted from nouns to verbs, pluralized, or qualified in assorted ways. Watches become "gold watches" or "platinum watches for men." If you are selling very high end watches, such as "Patek Philippe," you aren't looking for customers searching, "cheap watches online."
It's common for consumers to add a locality: "Dover, Delaware Patek Philipe watches for men." Now the search is very specific. A search engine can whittle results down to a select group and that is just what a customer wants if his search is typical: a narrow field of possibilities. Atypical searches delve into lesser-known, hard-to-find items where sometimes all that specific information closes doors.
Where are the Keywords?
A search engine ranks websites based on how closely they match the key words a consumer chooses but also how often they get a "hit": that is, the number of times keywords come up for that business. This is why clients of our Delaware SEO Squad are keen to spread their names around the internet as widely as possible. Products are found in:
• images
• videos
• scholarly articles or journalism
• reviews
• customer posts
• landing pages
• PPC ads
• blogs
Of course, we cannot make scholars write about our services and supplies or force newspapers to write about us – or you! We can't make customers say good things about any of us. These parts of SEO keyword installation are out of the ethical company's hands (although some post false reviews – and we advise you to steer clear of anyone who will do this on your behalf). The rest can be managed and much of it turns up on social media.
Images and Videos
Although there isn't much room for writing on a page devoted to pictures, captions are convenient locations for keywords. Select these to appear natural, remembering images are ideal spots for dispensing with proper English. Your readers will expect incomplete sentences where your space is limited (think of Twitter, and its limited number of characters in a Tweet). Keywords make it to video titles and also transcripts. Pinterest, MySpace, and Instagram all post pictures. Facebook does too but also lots of text.
Comments and Conversations
You can't ignore the power of social media as a business builder. All business owners – you included – should be engaged with these communities. We highly recommend using social media to talk with your existing and potential customers. Regular posting is essential, especially because keywords change. The most effective ones will have to be adjusted every three to six months so posts aren't stale and to make sure they are still effective.
Landing Page Link
Even though page one of a website is the first place a customer is probably going to find your product if he's actually searching for it, it's also a portal. The landing page introduces a company and only contains essential information including links to social media. Make sure your links to Facebook et al. are at the bottom and are set up to connect readers. Contact us for more information, and we'll go through everything during our consultation.